User guide
Data processing levels
The Hub provides free and open access to Sentinel-1, -2, -3 and -5P products processed to different levels of specifications, as summarised in the table below.
Data Processing Level
Sentinel-1
Sentinel-2
Sentinel-3
Sentinel-5P
OLCI
SLSTR
SYNERGY
SRAL
Level-2
Ocean data
Bottom of Atmosphere (BOA) Reflectance data

Ocean & Atmosphere data
Land & Atmosphere data

Sea Surface Temperature
Land Surface Temperature

Synergy product
VGT-P like product
VGT-S like product

Atmospheric data
Level-1
Single Look Complex & Ground Range Detected data
Top Of Atmosphere (TOA) Reflectance data
TOA Radiance data

Brightness temperatures
TOA Radiances

-
Preprocessed Radar altimeter Bursts, Echoes and Stacks
-
Level-0
Raw data
-
-
-
-
-
-
Region of interest (ROI)
The Sentinel products cover a ROI over Australasia, South-East Asia, the South Pacific, the Indian Ocean and the Australian Antarctic Territory, as depicted in the map below.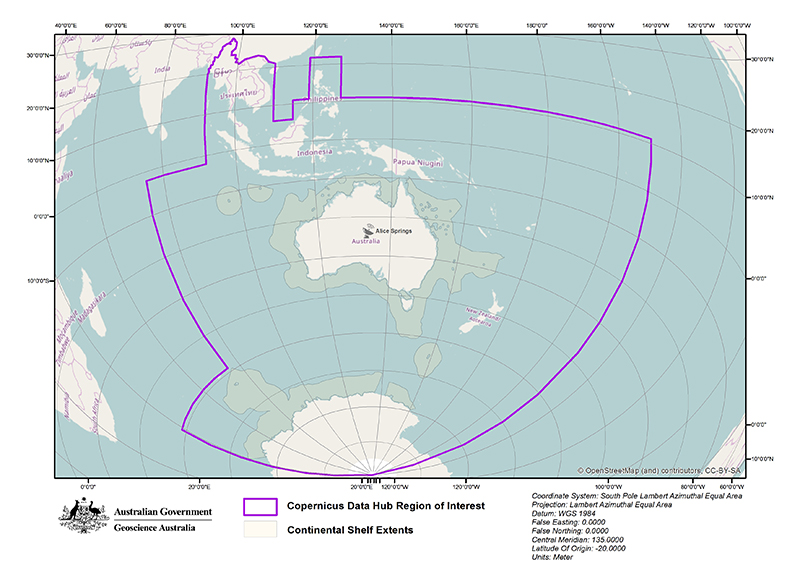 Product capture and management
The Hub's product capture and management regimes are given in the table below.
Mission - status / *acquisition plans
Product
Region of capture and management regime by the Hub
Sentinel-1A - operational [3 July 2014 - present]
Sentinel-1B - operational [25 July 2016 - present]

*The Sentinel-1 acquisition segments with the related mode and polarisation are defined on a 12-day cycle. The high-level operations plan can be found in the observation scenarios. The Sentinel-1 ground segment production baseline is described in the production scenario .
RAW – Full Resolution
GRD – Full Resolution
GRD – High resolution
GRD – Medium Resolution
SLC
OCN
Sync products over ROI
Sentinel-2A - operational [23 September 2015 - present]
Sentinel-2B - operational [7 June 2017 - present]

*The Sentinel-2 acquisition plans are routinely provided based on weekly planning.
Level-1C TOA
Level-2A BOA
Sync products over ROI
Sentinel-3A - operational [16 July 2016 - present]
Sentinel- 3B - operational [25 July 2018 - present]

The Sentinel-3 instruments autonomously perform systematic and continuous sensing following the Sentinel-3 observation scenario.
OLCI Level-1B TOA
OLCI Level-2 – Marine and Land
SLSTR Level-1B TOA
SLSTR Level-2 – Marine and Land
SRAL Level-1+ Level-2
SYNERGY
Sync globally, remove any 'time critical' products that have been superseded, then maintain ROI data after 60 days post 1 July 2019.
Sentinel-5P - operational [13 January 2018 - present]
TROPOMI
Ozone (O3) total column
Nitrogen Dioxide (NO2), total and tropospheric columns
Sulfur Dioxide (SO2) total column
Carbon Monoxide (CO) total column
Methane (CH4) total column
Formaldehyde (HCHO) total column
Cloud fraction, albedo, top pressure
UV Aerosol Index
Aerosol Layer Height (mid-level pressure)
Sync global products
We aim to make 90 percent of these products available in Australia within 24 hours of it appearing in the European hubs. Successful data replication, completeness and consistency with the European hubs are checked routinely and cleaned monthly.
For more information about latency and completeness of the Hub data, see the reporting dashboard.
Adding new products
As new Sentinel missions are launched, new products are added to the Hub based on the needs of its users, which currently includes:
government partners that finance its operation
industry
the research sector
academia
non-government sectors across our region
For technical information about the Sentinel satellite missions, see Sentinel Online.
If you require any Sentinel products that fall within our ROI, but are not listed in the above tables, please contact earth.observation@ga.gov.au
More information
For further details on Sentinel products, access and applications, see the Copernicus Australasia Training Material [PDF 11.7 MB].
If you experience any issues with products downloaded from the Hub, please report them to earth.observation@ga.gov.au.